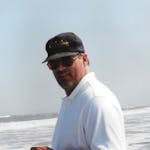 Jim Burns owned the Spring House Tavern since 1987, but worked in his family's business his whole life. Jim's life was devoted to making the Spring House Tavern a warm and welcoming restaurant for his customers. He was the head chef since the early 1980's, but could also be found landscaping and managing the business. He made significant changes to the restaurant including building the banquet rooms, adding the beautiful terrace, and renovating the bistro bar. Jim passed away in January 2015 and passed the restaurant on to the next generation. We look forward to carrying on Jim's legacy and passion for the Spring House Tavern.
– Karleigh & Marisa Burns
History
Established in 1719, the Spring House Tavern has been a destination for travelers and dining for three centuries. There are seven documented 18th century inns operating between Spring House and the Allentown Road terminus. In 1735, forks in the road were formed around the Spring House, which was an old settlement at the time. By 1763, Martin Shoemaker owned the Spring House Hotel. A stagecoach line ran between Philadelphia and Bethlehem and most travelers likely stayed the night at the Spring House Hotel. The hotel was named for a small stone building across the street that housed one of several local springs and has since been demolished. The busy junction of Sumneytown Pike and Bethlehem Pike is what sustained the hotel for many years. In 1778, Revolutionary War General Lacey referenced the hotel as the Spring House Tavern in 1778 in his dispatches to his men who were stationed here to intercept supplies to the British.
Benjamin Davis was the owner after Shoemaker until Christian Dull became proprietor of the Spring House Hotel from 1773 through 1827. In 1888, a fire destroyed the Hotel when Samuel Custer was proprietor. Custer quickly rebuilt the Spring House Hotel, since he could rely on the patronage of those traveling Bethlehem Pike. The hotel was rebuilt on the original foundation and soon became a landmark in its own right. By the early 1900's, the Spring House Hotel was run by Charlie Kuebler from Philadelphia.
In 1948 Charles Burns and his son, George Burns, bought the Spring House Tavern. In the mid 1980's, the business was passed on to the third generation owner, James Burns. While maintaining the historic architecture, Jim has expanded the business with renovations and additions to the building, as it exists today.