When the Spring House Tavern in Spring House, PA, needed a an updated website that could seamlessly handle reservations, event and rotating tap list updates, and communication with the restaurant, we contacted Media Proper, a web design firm on the Main Line in suburban Philly. We were ecstatic with the end result.
Who is Media Proper?
Media Proper creates beautiful and functional small business websites for businesses on the Main Line and beyond. Our team blends cutting edge web design with knowledge of the latest in functionality to create high impact websites, particularly for small businesses. Our years of experience with creating small business websites ensures that your business will have one of the most enviable websites on the Main Line!
Media Proper Helps You to Grow Your Business
You can't expect to grow your business efficiently without a website that is firing on all cylinders. You want to represent your business online in the absolute best light possible, and you need a web design firm that knows more than just coding. Media Proper knows how to build your website to be a marketing powerhouse. Our websites are a powerful differentiator for your brand.
We Do It All
Main Line businesses need more than just a good looking website. While we at Media Proper are design junkies, we're so much more than that. We build sites that have functionality that is tailored to the specific needs of your business. Our copywriters are the best in the business, so they hone your messages in the most effective way possible. And then our SEO experts get to work on it. Your new Main Line customers will be able to find you with the greatest of ease.
We're From the Main Line, Too
We've been building websites for Spring House and other Main Line businesses since 2001. Although we've worked with businesses all over the country, our roots are right here in the Philadelphia area. We know your market. And we specialize in bringing more customers straight to your doorstep.
We Do it All—And We're Right Here on the Main Line
Don't be fooled into thinking you need to pay big-city prices to get the best small business website that money can buy. When you work with Media Proper, you get all of the quality that you would with a bigger firm, but you also get individual attention that you just won't find anywhere else.
You Come First
Not all web design firms are created equal. At Media Proper, our clients are at the center of our process. We don't just build websites—we create relationships. Your business means more to us than just a number on an invoice. We hope to get to know you, and we're determined to become your go-to Internet marketing resource over the long-term.
Getting It Right
If you have a vision of what your perfect website should look like, we want to hear about it! We won't rest until we've turned your dream of the perfect website into a reality. We know how integral your website is to creating and growing your brand, and we're here to make sure your website delivers.
A Systematic Process
You want a web design firm with experience and a system for success. Media Proper uses a finely honed process to make your web presence come to life—and to start driving traffic to your point of sale. Remember: the devil is in the details. You need a web design business that leaves nothing to chance. We're happy to report that our clients are some of the most satisfied on the Main Line.
We Know SEO
SEO is an expertise in and of itself, and the search engines are constantly changing the rules. Search engine optimization needs to be done right. After all, how can you be successful if your customers can't find you? Using our SEO expertise, we make sure that they can.
Content is King
High-impact content is at the heart of every website—and every brand. The best and most functional website in the world will suffer without content that hits the right note. Our copywriters know how to make your website tell your story and make people want to do business with you.
Adwords Experts
Google Adwords is a potentially effective marketing tool for any business. But if you botch a Google Adwords campaign, the only result you will see is smaller numbers in your bank account. Media Proper will determine if and when a Google Adwords campaign is right for you—and then we'll make it happen.
Great Results in Spring House, and Beyond
Media Proper was established to serve small businesses in the suburban Philadelphia area. If you're doing business on the Main Line, the Media Proper team knows your market inside out. We know who they are, what they want, and what makes them open their wallets.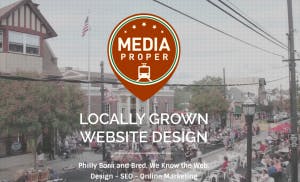 Media Proper is ready to work for you. Whether you're in Spring House, PA, or anywhere else, we can help you. We are one of the Main Line's most reputable web design firms. To get started, please visit us at www.mediaproper.com